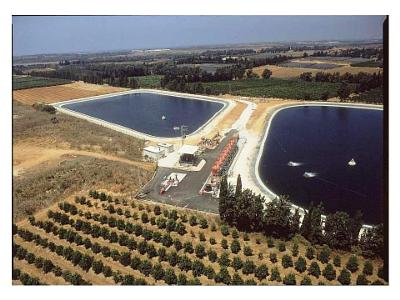 General Background
Ra'annana SBR WWTP produces secondary effluent quality. BJIS was assigned to design the filtration plant producing tertiary quality effluent (including integration of the existing disinfection facility).
The plant is based on the Pressure Filtration Technology with a dual filtration media of intricate and quartz sand.
The filtration components were manufactured by Amiad Filtration Systems.
BJIS prepared the general and detailed design including process, civil, mechanical, and electrical and control engineering.
BJIS provided general supervision at site.
Basic Design Facts:
Average Design Flow- first stage (m3/hr): 7,500
Average Design Flow - second stage (m3/hr):10,500
Influent Quality (BOD/TSS/P) (mg/l): 20/20/10
Effluent Quality (BOD/TSS/P) (mg/l): 10/10/5
Liquid Process and Facilities
Main Process:
Pressure Filtration Technology
Facilities:
Operational Reservoir
Filtration Pumping Station
Filtration Plant
Disinfection Plant
Tertiary Effluent Storage Reservoir
Tertiary Effluent Pumping Station
Effluent will be used for unrestricted agriculture use or disposed to the adjacent stream.
Backwashing water will be returned to the process inlet at the existing W.W.T.P.
Raanana Filteration Plant - Israel