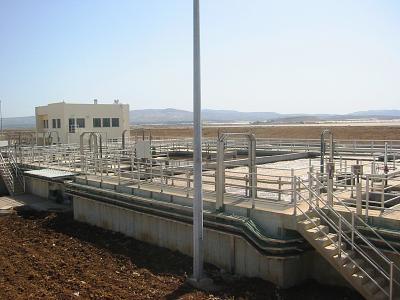 רקע כללי
General Background
מתקן טיהור שפכים זה משרת 8 עיריות עם אוכלוסייה של .175,000
This W.W.T.P serves 8 municipalities having population of 175,000.
המפעל בנוי כיום על פי חוזה B.O.T.
The plant is presently constructed under a B.O.T contract.
חברת בלשה-ילון הכינה את העיצוב הכללי מפורט כולל תהליך האזרחי, מכני, חשמל הנדסת בקרה.
BJIS prepared the general and detailed design including process civil, mechanical, electrical and control engineering.
חברת בלשה-ילון מספקת פיקוח כללי על הבנייה.
BJIS provides general supervision of construction.
עובדות בסיסיות:
Basic Design Facts:
זרימת עיצוב ממוצעת (m3/day): 28,200
Average Design Flow (m3/day): 28,200
ממוצע B.O.D לִטעוֹן (Kg/day): 13,000
Average B.O.D. Load (Kg/day): 13,000
איכות קולחים (BOD/TSS/N): 15/15/10
Effluent Quality (BOD/TSS/N): 15/15/10
תהליך נוזלי ומתקנים

Liquid Process and Facilities

עיקרי התהליך:

Main Process:

B.N.R. רפש פעיל.

B. N. R. Activated Sludge.

מתקנים:

Facilities:

מסכי בר
Bar screens
הסרת חצץ
Grit removal
מבהירים ראשוניים
Primary clarifiers
B.N.R. כורי בוצה מופעלים עם מערכת אוורור מפוזרת
B.N.R. Activated sludge reactors with diffused aeration system
מבהירים סופיים
Final clarifiers
סינון וחיטוי של שפכים. השפכים ישמשו לשימוש חקלאי בלתי מוגבל.
Effluent filtration and disinfection. Effluent will be used for unrestricted agriculture use.

תהליך בוצה ומתקנים

Sludge Process and Facilities

עיקרי התהליך:

Main Process:

ייצוב אירובי

Aerobic Stabilization

מתקנים:

Facilities:

2 תופים לעיבוד
2 Drums for W.A.S thickening
2 digesters אנאירובי, 1,700
m3 כל לייצוב של W.A.S. ואת הבוצה העיקרית. Digesters הם מעורבים על ידי ייחודי "Rotamix" המערכת
2 anaerobic digesters, 1,700 m3 each for the stabilization of the thickened W.A.S. and the primary sludge. Digesters are mixed by the unique "Rotamix" system
2 צנטריפוגות דקנטר עבור סחיטה של בוצה מתעכל
2 Decanter centrifuges for the dewatering of the digested sludge
Co- דור המערכת לניצול של ביו גז כולל יחידת שיתוף הדור בעל קיבולת חשמל 500kW
Co-generation system for the utilization of the bio-gas including co-generation unit having 500kW electric capacity
מתקן טיהור שפכים- עכו, ישראל
Akko WWTP - Israel